Their Love
They liked to call it love but there was always a problem. They would stand on the coast with the sky turning any sort of color and she'd take flight, skimming along the tops of the waves, the sea spray making her a dark mass of curls.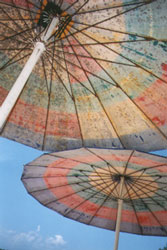 Still they called it love although when she said imagine us in Tuscany, he could only see as far as Florence. Each shut their eyes, smiling, but they stood in separate Italian lights, her at a green door with peeling paint and him on the veranda, waiting for a telephone call. When the phone call came, he rushed to it; surely she would share his light. But he heard only harmonica music, a vague blues riff reminding him of times before her, other failures.
A song spilled out of the radio one night and he had the spontaneity to say, "our Song", but, really, it belonged to him and a girl from before. They danced as if the song began with them until he spun too fast for her to see him.
They walked down the avenue toward the university, the sun had a golden autumn quality and they agreed it was love. So it seemed like fate, when that women who had eyes the color of Peruvian mountains stopped them and said she would give them henna tattoos. They each submitted.
Walking away, he examined his tattooed hand, grainy with the artwork and saw his love's face. It moved and changed with that elastic quality only she possessed.
Alongside him she turned her inked-up hand in the sunlight. She saw the waves, saw the green door, saw a spinning flash. All things, all places they had been together, on her hands: everything but him.

-- Serena E. Makofsky
Originally published by L D Books, used with permission.
Photo by Joel Ohringer.