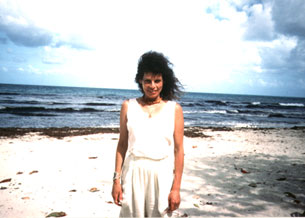 I studied painting and sculpture at Pratt Institute, (BFA, 1969), and at Cranbrook Academy of Art, (MFA, 1971) . Fellowships to MacDowell Colony right after graduate school enabled me to continue painting, until I received my first teaching position in 1972. During undergraduate school I received a fellowship to attend Skowhegan School of Painting and Sculpture, in 1968. In 1975 I received a grant to paint at the Roswell Museum Art Center in New Mexico, as "Artist—in—Residence." In 1981 I was awarded a Blanche E. Colman Award, (Boston), and from 1981-3 I was "Artist-in-Resident" through the Vermont Council on the Arts. In 1983 through the U.S. Information Agency, I was invited to lecture and teach at the university in Tegucigalpa, Honduras. Again in 1985 through that same program I taught in Malta, and in 1990 at the Institute of Fine Arts in Medellin, Colombia. In 1988 I was awarded an "Emergency Grant" through the Esther and Adolph Gottlieb Foundation, and in both 1990 and 1997 the PollockKrasner Foundation granted me awards.

My teaching career at various colleges has been significantly interrupted by 6 bouts with surgeries for tumors, my most recent taking place six months ago. I have taught at R.I. School of Design, off and on since 1973, Brown University, the University of Minnesota, and Dartmouth College, to name a few.

I have exhibited my paintings, most recently, at La Mama La Galleria, (NYC); With an upcoming major solo exhibit to take place at the University Gallery at the University of Massachusetts. I have recently exhibited at Gallery BAI, (NYC); the Bowery Gallery, (NYC); Walter Wickiser, (NYC); John McEnroe, (NYC); and I axhibited paintings with my mentor James Gahagan (he was my teacher 30 years ago), at Hillyer Gallery, Smith College. I have paintings on exhibit through the "Art-in Embassies Program," D.C., which have travelled to Cape Verde, Guatemala, the Congo, the Gambia, and Malta. I have also exhibited at the Fine Arts Work Center, (Provincetown, MA.), the Yale University Divinity Center, as well as at the Hood Museum, Dartmouth College.